10FT YURT
Cute and sometimes referred to as a hobbit yurt,
The 10ft is definitely our cutest. It is the smallest in our range but, as they say, great things come in small packages. This yurt is perfect for smaller gardens or sites limited on space. With it's lower walls it is super cosy for 2 and doubles up well as a play tent for kids.
Enquire
---
Diameter: 10ft / 3m
Area: 78.5ft² / 7.2m²
Trellis Wall Height: 1.2m
Roof Height: 2.5m
Door Height/Width: 1.5m/87cm
Crown Diamater: 75cm
Frame: 27 x Poplar roof ribs, 2 trellis sections
Capacity: Sleeps: 1/2 | Seated: 5 | Standing: 2
---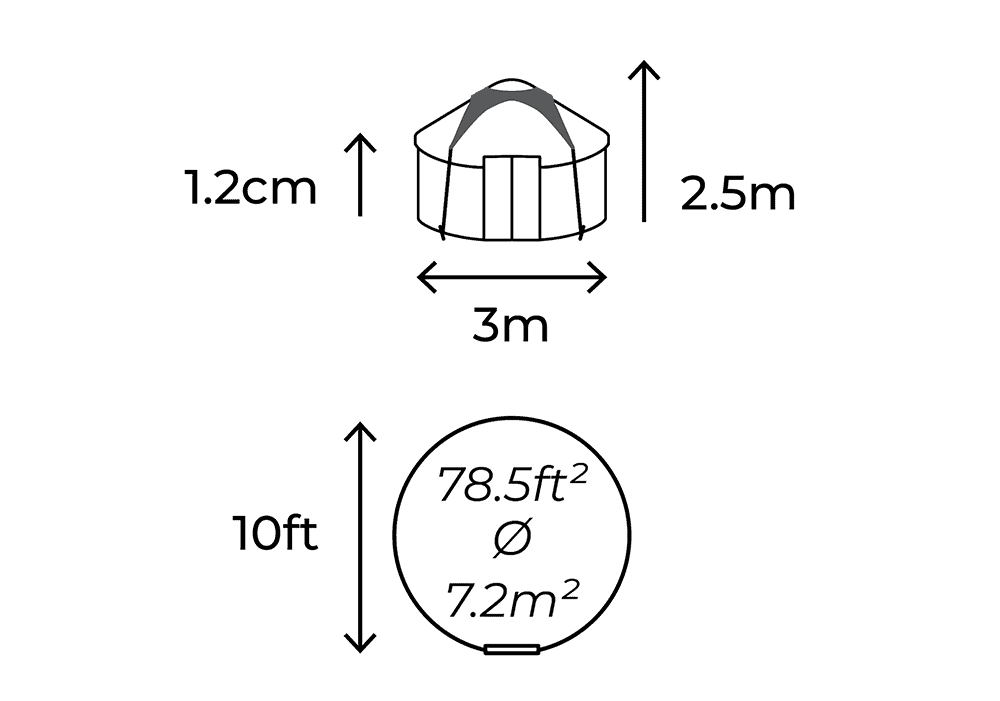 Frame
Our frames are handmade and locally sourced, using ash for the trellis and steam-bent crown, poplar for the roof poles and pine for the door.
canvas
Consisting of a crown cover, wall and roof section made from fire, water and rot-proof 12oz Regentex canvas, our covers are made to last.
ACCESSORIES
A fitted PVC groundsheet, durable canvas carry bag and a set of heavy duty pegs come as standard with our yurt packages.
Install
We can deliver and install your yurt, with an expert member of our team able to give a full demonstration and useful tips on maintenance.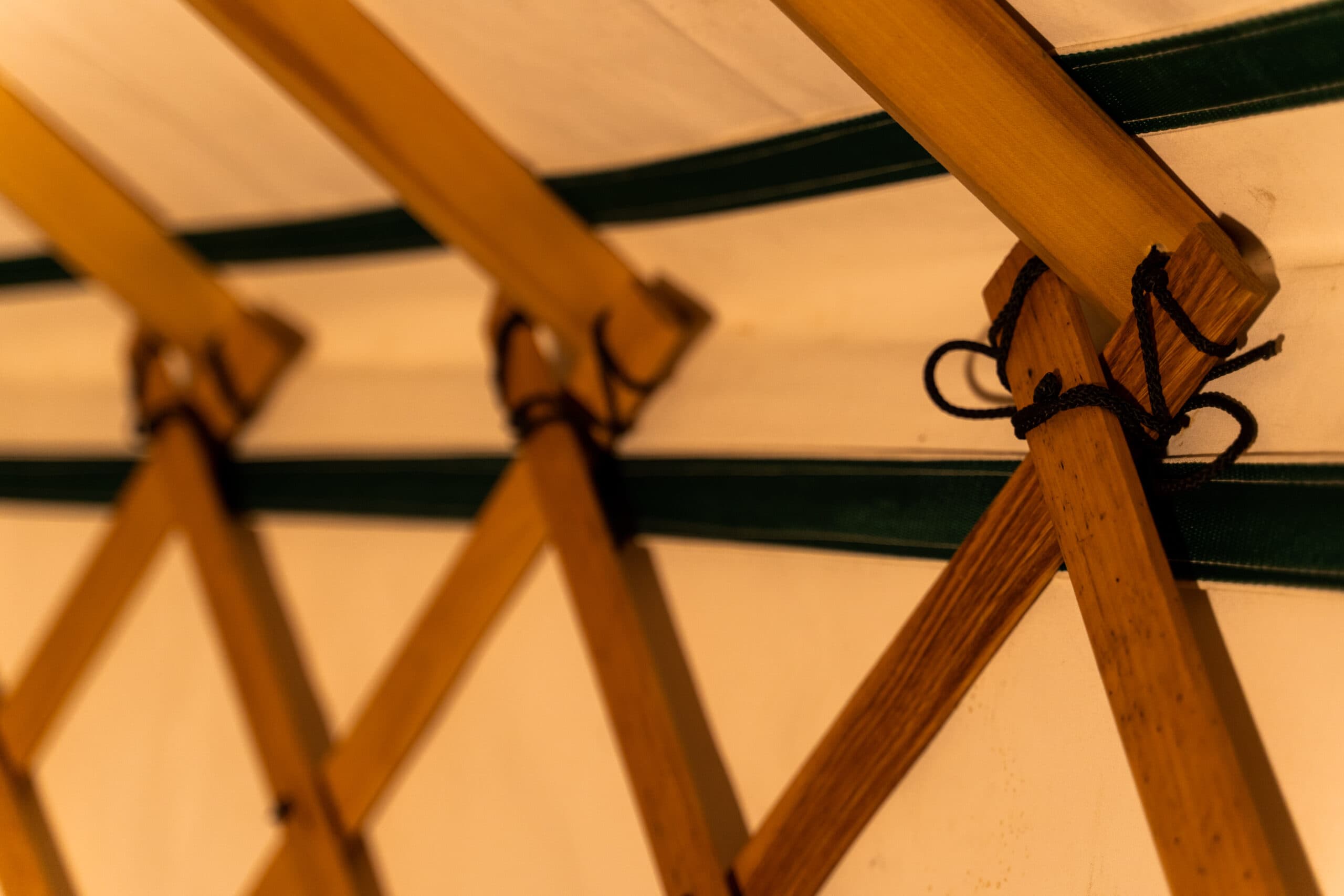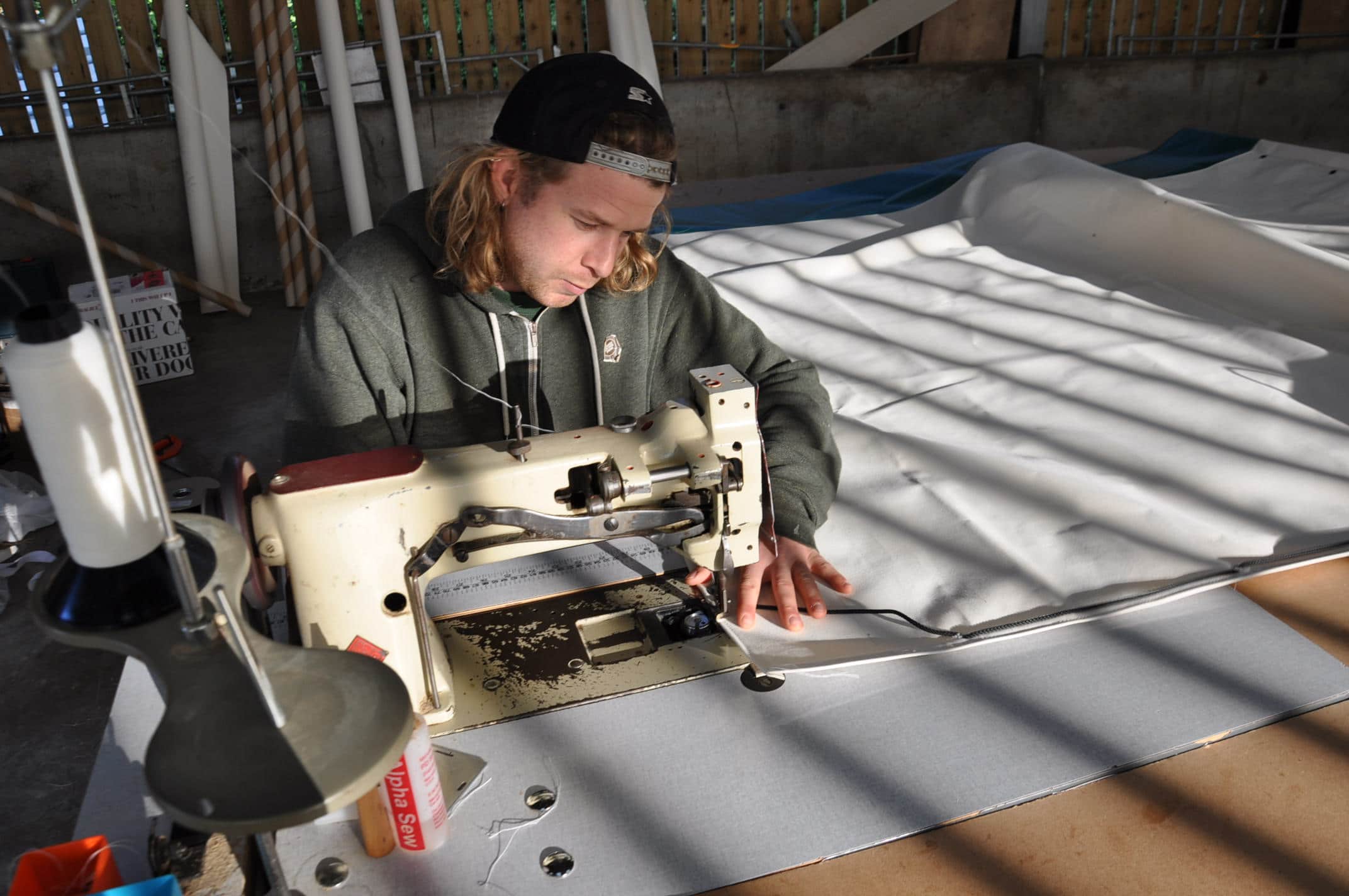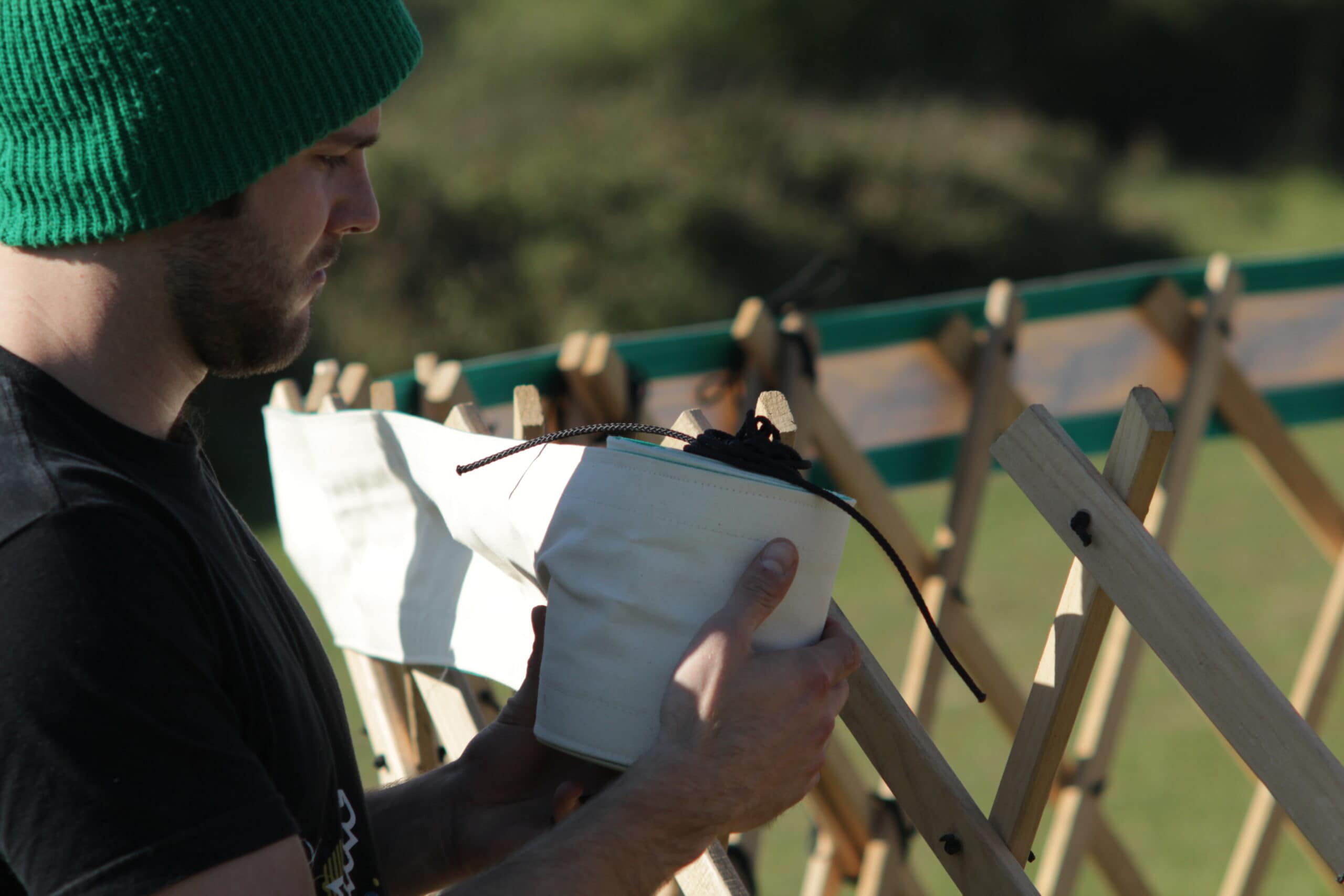 10ft Yurt
10ft
Yurt
£3,120

Yurt Frame


£1,872





Yurt Canvas


£1,248





Wooded base


£POA






Add Ons
10ft
Coir Matting


£250





Side tables


£35





Wooden Chest


£250





LED lighting


£25





Designer rugs


£50










These prices include VAT at the rate of 20%. All holding deposits are non-refundable.

matting

Custom made to fit your yurt, with a choice of colours and finishes available.

Side tables

Practical and slick, our folding wooden tables make for the perfect bedside table.

Chest

Our stylish, robust, handmade chests are the perfect place to store furnishings.

LED LIghting

We've got a range of ambient lighting, selected to give the yurt that special glow.

stylish rug

Designed not only to look good, but also remain durable and lightweight.

All season yurts

---

If you want to use your yurt all year round you will need to insulate it and a log burner is highly recommended. We can supply the insulation to fit your yurt. For log burners, we can recommend our trusted partner www.outbackerstoves.co.uk or you can source your own. If sourcing your own, we recommend running all dimensions past us before your yurt goes into production.

our promise

---

---

With over 10 years experience building yurts we are confident that you'll be happy with your yurt. We promise to deliver your brief on time and with a smile on our faces.

How to order

The first step is an initial consultation to determine yurt size and any add ons required. Following this, we take a 50% deposit to secure the order and begin production. The balance is payable 7 days before the date of collection/delivery.

Delivery

We will deliver and install anywhere in mainland UK. The install price starts at £150 per yurt and involves a full demonstration and maintenance advice. Delivery is calculated on a round trip, mileage basis at 50p per mile from our base in Chelmsford, Essex.

10FT YURTCute and sometimes referred to as a hobbit yurt,
The 10ft is definitely our cutest. It is the smallest in our range but, as they say, great things come in small packages. This yurt is perfect for smaller gardens or sites limited on space. With it's lower walls it is super cosy for 2 and doubles up well as a play tent for kids.
Enquire

YURT SIZE SPECIFICATIONS

Diameter: 10ft / 3m
Area: 78.5ft² / 7.2m²
Trellis Wall Height: 1.2m
Roof Height: 2.5m
Door Height/Width: 1.5m/87cm
Crown Diamater: 75cm
Frame: 27 x Poplar roof ribs, 2 trellis sections
Capacity: Sleeps: 1/2 | Seated: 5 | Standing: 2

Frame

Our frames are handmade and locally sourced, using ash for the trellis and steam-bent crown, poplar for the roof poles and pine for the door.

canvas

Consisting of a crown cover, wall and roof section made from fire, water and rot-proof 12oz Regentex canvas, our covers are made to last.

ACCESSORIES

A fitted PVC groundsheet, durable canvas carry bag and a set of heavy duty pegs come as standard with our yurt packages.

Install

We can deliver and install your yurt, with an expert member of our team able to give a full demonstration and useful tips on maintenance.

EnquirePricing and addons

10ft Yurt

10ft

Yurt

£3,120

Yurt Frame

£1,872

Yurt Canvas

£1,248

Wooded base

£POA

Add Ons

10ft

Coir Matting

£250

Side tables

£35

Wooden Chest

£250

LED lighting

£25

Designer rugs

£50

These prices include VAT at the rate of 20%. All holding deposits are non-refundable.

matting

Custom made to fit your yurt, with a choice of colours and finishes available.

Side tables

Practical and slick, our folding wooden tables make for the perfect bedside table.

Chest

Our stylish, robust, handmade chests are the perfect place to store furnishings.

LED LIghting

We've got a range of ambient lighting, selected to give the yurt that special glow.

stylish rug

Designed not only to look good, but also remain durable and lightweight.

All season yurts

If you want to use your yurt all year round you will need to insulate it and a log burner is highly recommended. We can supply the insulation to fit your yurt. For log burners, we can recommend our trusted partner